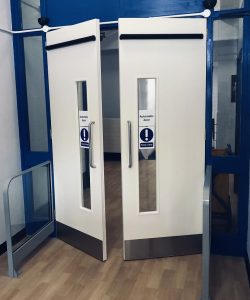 Door automation is a fast growing sector, particularly in public buildings and commercial premises where there is a need to ensure DDA compliance. As an ADIA certified company, we are able to design, install and maintain a wide variety of automatic entrance systems and ensure strict compliance with EN16005.
Regular servicing and maintenance is an essential part of door automation. Our annual inspection and testing includes servicing of all moving parts to ensure reliable and smooth operation, as well as checking the condition and operation of all safety devices and force testing to ensure all safety criteria are being met.
We offer a full one-stop solution for automatic entrance systems, including integration with access control to provide a complete, secure system which is safe by design.